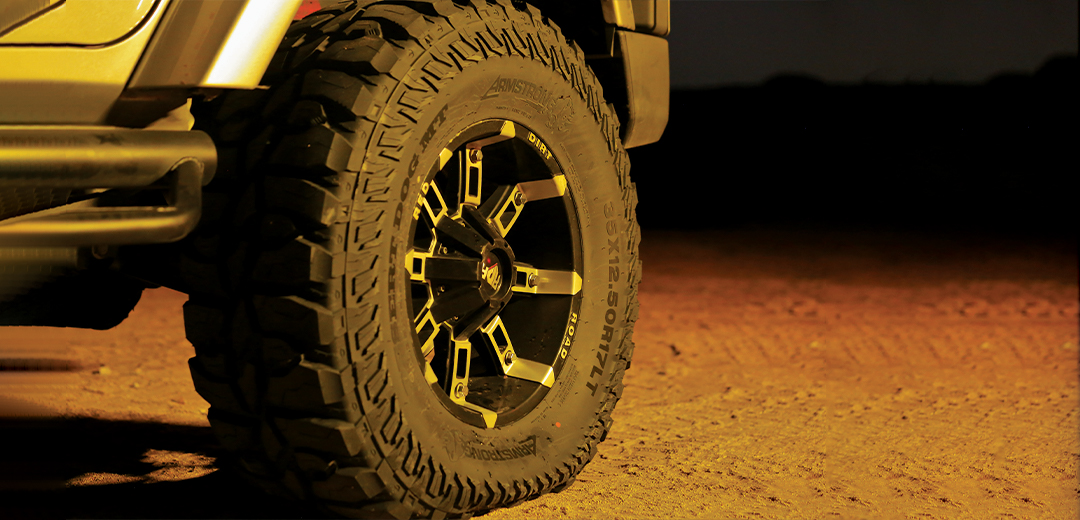 Mud terrain tyres, or simply mud tyres, are an aftermarket fitting option, particularly for four-wheel-drive cars. They are distinguished by a broad chunky tread pattern designed to excel in muddy areas and give the necessary traction. The huge tread blocks, which are split by broad and deep grooves, really prevent mud from entering and clinging to the tread, while the mud that has grasped in the grooves is tossed away by the sufficient rotation of the tyres. Because of their bare construction, these tyres are typically not advised for on-road use, and they produce a lot of noise and vibration at motorway speeds.
The Armstrong Desert Dog MT is a light truck mud terrain, all-season tyre. The aggressive tread pattern of the tyre encourages exceptional mud terrain performance. The staggered, zigzag block design, high void ratio, and intricate sidewall pattern provide grip on soft, loose, and uneven terrain. This allows the tyre to significantly increase its overall performance by enhancing deep mud and loose terrain surface grip. Mud and snow caught between the tread components are dispersed, preventing them from obstructing surface contact.
The combination of these items significantly improves the model's off-road terrain performance. The self-cleaning tread and stronger sidewall plies improve the tire's damage resistance. The tread components have zigzag stone ejectors that remove pebbles from the imprint. As a result, they are unable to drill into the tread and induce stone retention. To avoid external damage, the sidewall structure and meticulous sidewall design work together. They prevent punctures, cuts, and impact damage by reducing the total service life of the tyre. The tread design also improves controllability.
While the tyres are in motion, the stable block placement allows the tyre to improve surface contact. This greatly improves the tire's steering reaction time and precision to the driver's directions, while also maintaining structural stability at all times. The reinforced construction and improved pressure circulation aid in maintaining the proper tyre shape under pressure. This greatly improves the tire's capacity to transport and bear enormous loads, resulting in the tire's secure heavy-duty performance. The Desert Dog MT extends the duration of use. The unique formulation and stable tread portions allow the tyre to last longer. The stronger composition makes use of wear-resistant components to reduce tread wear.
The solidity of the footprint guarantees uniform pressure circulation, which considerably reduces erratic wear. The gradual and even wear extends the tire's total tread life. Mud Terrain tyre types are designed for off-road use. They are not made for driving on a highway.
Armstrong made several All Terrain (AT) Desert Dogs with the same style of outlined writing as the other Armstrong Formula desert dogs, but with noticeably different tread.