All Tires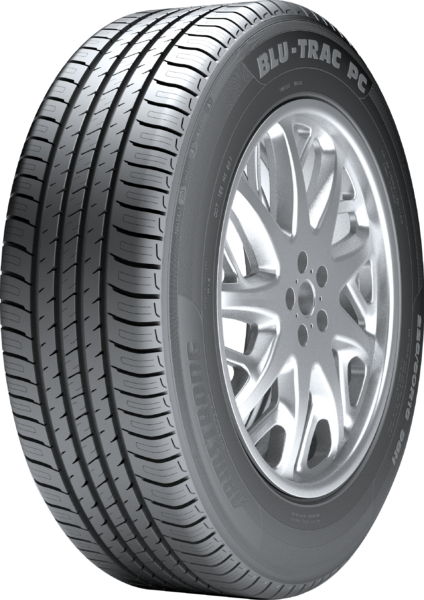 BLU-TRAC PC
This next generation of
passenger tire
is designed to deliver a smoother ride with reduced road noise and more even tread wear, while also providing enhanced traction and braking ability in both wet and dry conditions.
CATEGORY:
PERFORMANCE
RATING:
UTQG 340 A A

5 YEAR LIMITED WARRANTY
ROAD HAZARD REPLACEMENT PROGRAM
Features
A symmetric tread design.
Symmetric tread design leads to smoother rolling on the road and even tread wear throughout the tire's lifespan.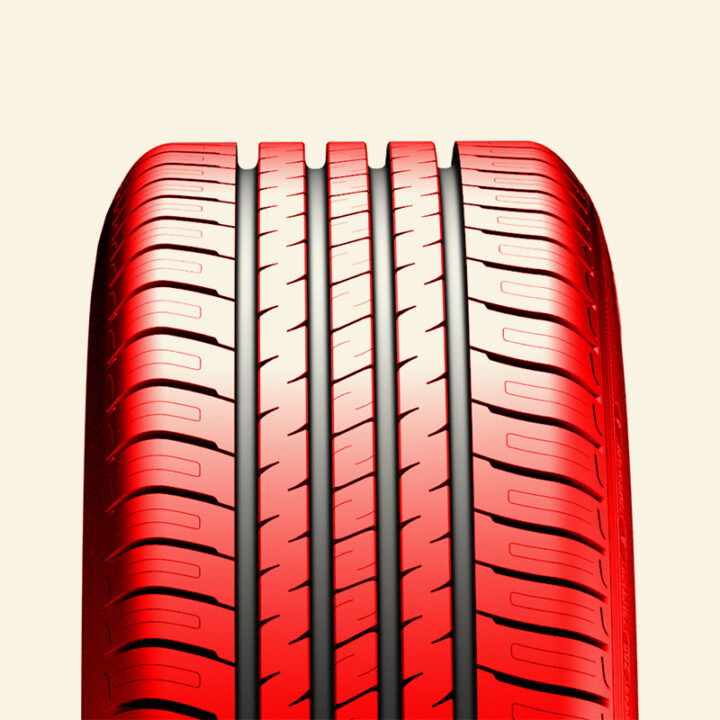 A set of dynamic inner ribs.
A three-across set of inner ribs reduces road noise and improves ride comfort.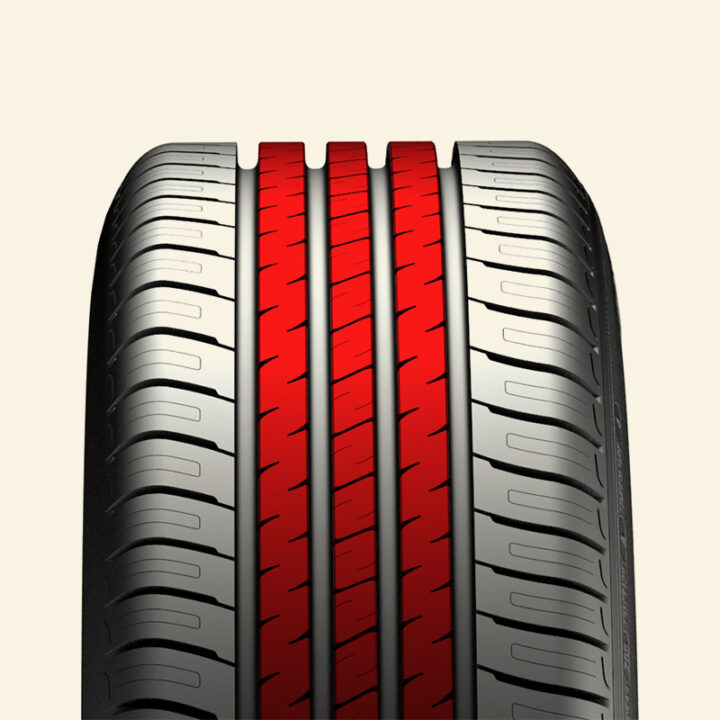 A self-locking sipes system.
A self-locking sipes system ensures exceptional water evacuation to enhance road traction and braking.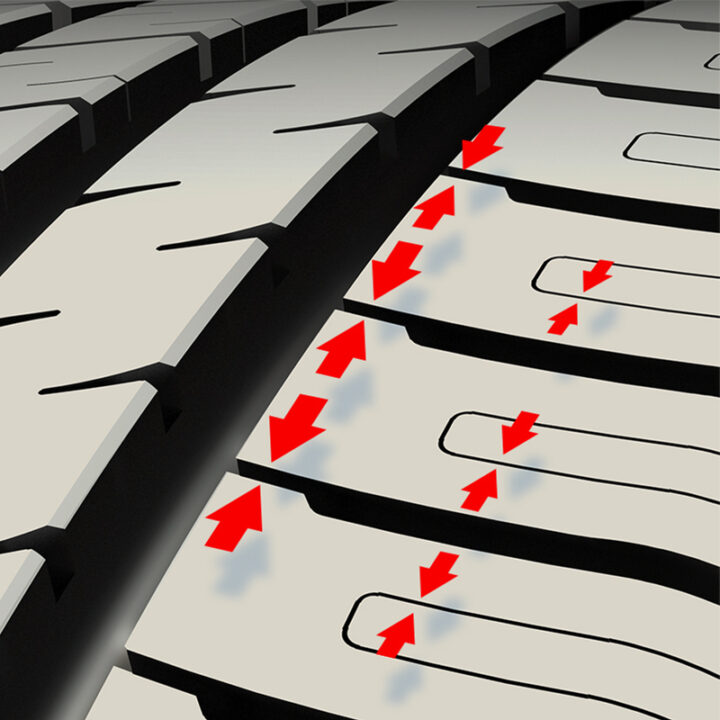 Lateral chamfered edges.
Chamfered edges of the lateral grooves reduces rolling resistance and increases tread rigidity.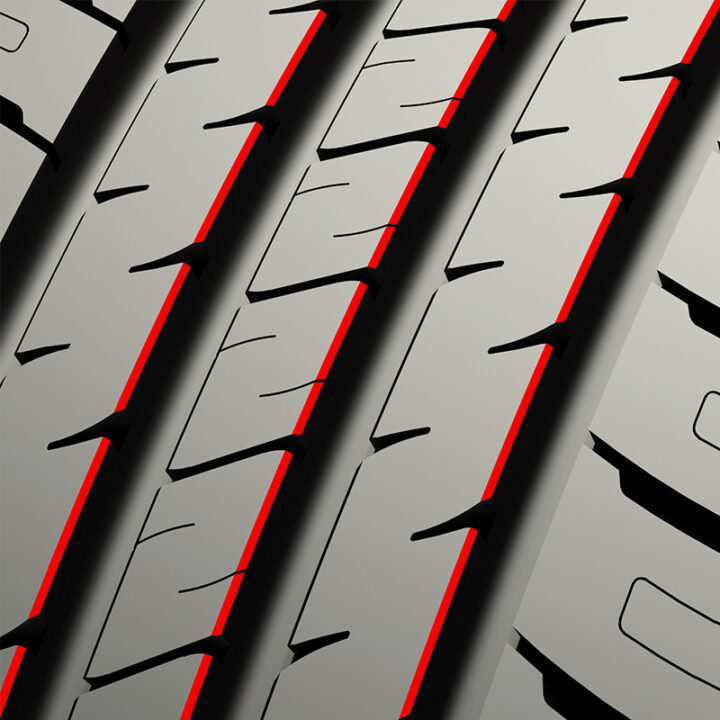 Specifications
Ascept Ratio
Tire Size
Load &
Speed
Index
Maximum Load
(lbs)
Maximum
Inflation
Pressure
(psi)
Rim
Width
(inches)
Section
Width
(inches)
Overall
Diameter
(inches)
Tread
Depth
(32nds)
80
155/80R13
79T
965
44
4.5
6.3
22.6
9
70
145/70R13
71T
760
44
4.5
6
20.9
10
155/70R13
75T
855
44
4.5
6.2
21.6
9
165/70R13
79T
965
44
5
6.7
21.9
9
175/70R13
82T
1045
44
5
6.9
22.5
9
165/70R14
81T
1020
44
5
6.7
23.1
9
175/70R14
88T XL
1235
50
5
6.9
23.6
9
185/70R14
88H
1235
44
5.5
7.6
24.3
9
195/70R14
91T
1355
44
6
8
24.8
9
195/70R14
95H XL
1520
50
6
8
24.8
9
205/70R15
100H XL
1765
50
6
8.4
26.3
9
215/70R15
98H
1655
44
6.5
8.7
26.9
10
65
155/65R13
73T
805
44
4.5
6.2
20.8
9
165/65R13
77T
910
44
5
6.8
21.3
10
155/65R14
75T
855
44
4.5
6.2
21.9
9
165/65R14
79T
965
44
5
6.8
22.4
9
175/65R14
82H
1045
44
5
7.1
23
9
185/65R14
86H
1170
44
5.5
7.4
23.5
9
175/65R15
84H
1100
44
5
7.1
23.9
10
185/65R15
88H
1235
44
5.5
7.4
24.4
9
185/65R15
88T
1235
44
5.5
7.4
24.4
9
195/65R15
91H
1355
44
6
7.9
25
9
195/65R15
95H XL
1520
50
6
7.9
25
9
195/65R15
91V
1355
44
6
7.9
25
9
205/65R15
94H
1475
44
6
8.2
25.4
9
205/65R15
99H XL
1710
50
6
8.2
25.4
9
205/65R16
95V
1520
44
6
8.2
26.5
11
215/65R16
102H XL
1875
50
6.5
8.7
26.9
10
235/65R16
103H
1930
44
7
9.4
27.9
10
215/65R17
99V
1710
44
6.5
8.7
28.1
10
60
165/60R14
75H
855
44
5
6.7
21.8
10
185/60R14
82H
1045
44
5.5
7.4
22.6
9
175/60R15
81H
1020
44
5
7.1
23.2
10
185/60R15
88H XL
1235
50
5.5
7.3
23.7
10
195/60R15
88H
1235
44
6
7.9
24.2
10
205/60R16
92H
1390
44
6
8.1
25.6
9
205/60R16
92V
1390
44
6
8.1
25.6
9
215/60R16
95H
1520
44
6.5
8.6
26.1
10
215/60R16
99V XL
1710
50
6.5
8.6
26.1
10
225/60R16
102V XL
1875
50
6.5
9
26.5
10
235/60R16
100V
1765
44
7
9.5
27
10
225/60R17
99H
1710
44
6.5
9
27.8
10
225/60R17
99V
1710
44
6.5
9
27.8
10
55
205/55R16
91H
1355
44
6.5
8.3
24.9
9
205/55R16
94V XL
1475
50
6.5
8.3
24.9
9